Feng Shui Creations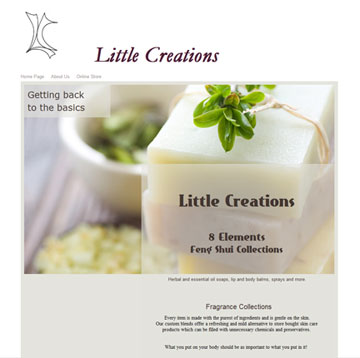 Little Creations
8 Elements Feng Shui Collections
Crafted herbal and essential oil soaps, lip and body balms, body creams
and body sprays and more… many fragrance selections!
www.LittleCreations.biz
"I am a real estate agent since 1976. My husband and I purchased our current home in 2004 because it was in a lovely location on a quiet non-thru way road near a town park which offered a home away from home environment.
After the first 2 years of attempting on our own to refresh and clean out negative energy, we found ourselves losing income, in the middle of strained family relations, experiencing restless sleep, and consistently feeling overwhelmed and without a plan. I had no idea or clarity to resolve our situation. I knew I needed professional help to fix the growing stress level we found ourselves in, since we purchased the property.
My decision to first consult with you was a reluctant one because of financial concerns and the economy. Looking back, it was the best decision I ever made! After our first analysis consultation I was very excited because I finally had a guide to follow which evolved into a vision with a plan to apply to our land and home. It was then that I decided to enroll in your Feng Shui Certification Course.
The first change was with our sleeping positions; we were finally able to rest and found relief from the physical aches and pains we were suffering from. You reassigned our work stations and adjusted our facing positions both at home and work to support each of our personal elements. Our property was locked on people and financial benefits, which we would never have known about had I not called to consult with you.
Today, we are very happy in our home; we are proud grandparents of 7 grandchildren and we will soon be welcoming 2 more grandchildren into our family. We enjoy many family celebrations here and enjoy our peace and play time here. It is a beautiful piece of earth that we are fortunate to have been able to transform into a home of dreams come true.
In addition, since consulting with you, my growth in real estate has SKYROCKETED, and includes the development of my Feng Shui knowledge which resulted in my ability to offer personalized consultation service to my real estate clients, family and friends that seek my help. Using Feng Shui knowledge and applications has become a major part of my life and environment; this story of my journey has evolved into a PASSION that has an added pleasant surprise and fulfilled one of my lifelong wishes. That being, the development of www.LittleCreations.biz, a Feng Shui body skin care line!!!
Always, my Feng Shui applications are refreshed and adjusted with your Feng Shui CERTIFICATION course and consultations every season to keep our energy and blessings flowing.
Thank you, Suzee, for your continued support and encouragement.
LIFE IS BEAUTIFUL AND AMAZING because of you!"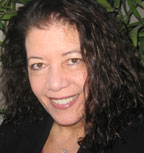 Linda Little
Feng Shui Certification Course Member
O'Brien Little Realty Group
Keller Williams - Foxboro/North Attleboro
Plainville, MA
Linda@LittleCreations.biz
Cell: 508-243-3691